Retail Bottega Veneta Shops
Project Information
By exploring consumers' dramatic engagement with product, FdM:Arch was able to create a design that draws shoppers into the world of legendary leather craftsman Bottega Veneta. Using the brand's iconic weaving as a conceptual springboard, we utilized our trademark use of light, narrative and understated elegance to make the store itself feel like the display.
The art of weaving is integral to Bottega Veneta's success. Within the store's neutral white envelope, we threaded the architectural elements through each other to create conceptual weavings of the varied elements of the product line, and spatial weavings of the sales and stock areas. These interrelationships force the eye to continuously move through the shop, seeking the spaces hinted at beyond, and makes a jewel box space feel much larger.
The store architecture both frames the merchandise and restructures the relationship between the object and the viewer/shopper. The experience of seeing/coveting/acquiring product is ritualized in stages of increasing contact with the merchandise. The lit recesses create discrete display environments that redefine each piece of merchandise as an idealized object of special value. A request to see a specific piece reveals its full range of colors and sizes in adjacent storage areas. Having selected one for further examination, a pull out shelf provides a surface for appreciating the feel of the material and the quality of its construction. Through this experience, the object is transformed from an idealized abstraction to a personal possession.
View More
Project Images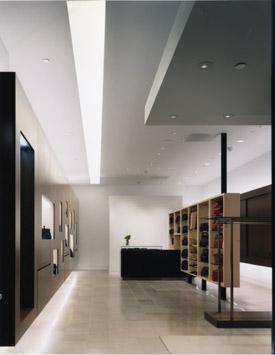 Process Images
Project Details
Place USA & Japan
Date 1996–1998
Client Bottega Veneta
Area Various
Design Architect Francois deMenil Architect, PC
Architect of Record Bergmeyer and Associates
Structural Engineer Various
MEP Engineer Various
Landscape Architect N/A
Lighting Fisher Marantz Renfro Stone
Contractor Various